Escape to Wayne County
Old fashion country living with traditional southern hospitality is Wayne County in a nutshell. It is the second largest Tennessee county measuring 736 square miles while remaining one of the least populated. That is a good sign for people who are looking to live in a safe, quiet, and overall peaceful tight knit community. Most citizens of Wayne County reside in Waynesboro, which is also the county seat, followed by Clifton. Anyone looking for a safer place to live should know that Clifton is one of the top safest cities in Tennessee. It is located on the south bank of the Tennessee River, nearly halfway between Memphis and Nashville. It has been ranked as the 7th safest city in Tennessee.
Wayne County is comprised of three municipalities, in addition to the Waynesboro and Clifton, a smaller city of Collinwood is the third. All three municipalities are rich in historical and scenic beauty. The main draw for visitors and residents is the beauty and living in a place surrounded by the great outdoors. Collinwood is the only city in Tennessee to situated directly on the border of the historic Natchez Trace Parkway. The Wayne County welcome center is in Collinwood just off Trace mile marker 355. The Natchez Trace Parkway is operated by the National Park Service. The scenic parkway is one of the four oldest trails in North American and runs from Natchez, Mississippi to Nashville, Tennessee. The entire route is 444-miles from beginning to the end. The historic route has been instrumental in American history and now it is enjoyed by people who love to get outside for some hiking, camping, horseback riding or biking. The Buffalo River is the longest unimpounded river in Middle Tennessee and runs through the northern part of Wayne County. The river is 125 miles long and is one of the most popular places for residents to float in their canoes or kayaks. Fisherman can often be found along the riverbanks with lines in the water waiting patiently for a bass, catfish, or other species of fish to bite.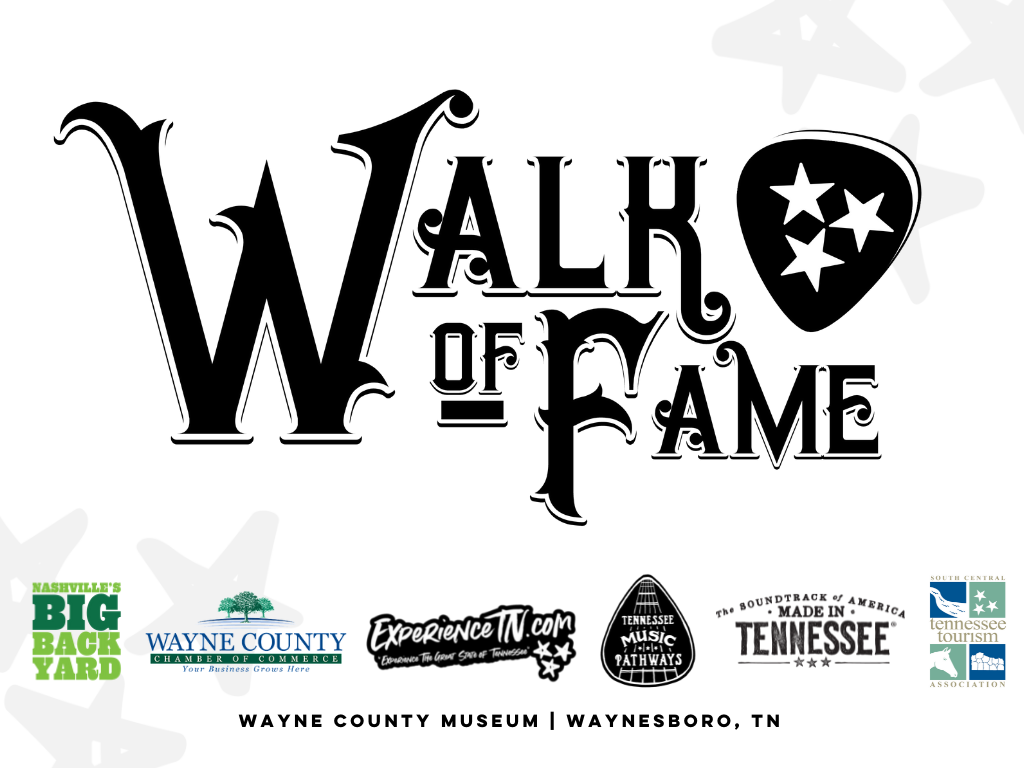 Wayne County Walk of Fame
Wayne County, Tennessee has a long history of gifted and notable singer/songwriters and musicians. Its convenient location between the famous Nashville, Memphis, and Muscle Shoals music centers, has drawn talented artist to the area over the years and inspired a developing rich musical culture drawing from different genres.
As the line from the song Nashville Cats tells us - "Nashville Cats play country music when they're two" - and, as you take this tour, you will note that many Wayne County musicians began playing as preschoolers.
Enjoy the Wayne County Walk of Fame.
This tour is built from the bios from the book: "The Heritage Project: A Collection of Musical Talent in Wayne County, Tennessee by Anita Miller. You may purchase a copy of this book at the Wayne County Museum.